Elgin 2001 Road Race and what happened
4 Bridges of Elgin 07-08-2001

Bond Grabs First '01 Victory....
The following story was taken from the USHF page, www.ushf.org
Copyright: USHF 2001 (Permission Given)

As Michel Bond (Invacare / Top End) doused the crowd with champagne and admired his fancy crystal winner's trophy at the 4 Bridges of Elgin (IL) USHF National Road Race Campionships presented by Adaptive Adventures, Craig Blanchette (Gateway / Freedom Ryder) quietly packed his bike and prepared for the long flight home -- empty-handed.
After crusing through every event thus far in the season -- and obliterating all competitors with the exception of Bond -- Blanchette was forced to watch most of the season's pinnacle race from the sidelines. The extremely technical 5.5 mile course -- with more-than 30 turns -- suited Blanchette's style. It was "not to be" however, when Blanchette suffered the first of two devestating flat tires after just one lap of the five-lap race. With no support crew around, Blanchette lost almost 5 minutes while he rode to his car and changed his own flat. After an adrenaline filled charge, he had somehow gained 2 minutes back (flying by lots of riders) on the second lap.....only to flat again on lap three when he finally threw in the towel. In truly professional form however, Blanchette swallowed his pride, wore a smile and congratulated Bond on an impressive victory as he beamed on the podium flanked by 2nd-placed Scott McNeice (Invacare) and 3rd-place Allejandro Albor (A-won Handcycles).
With Blanchette out of the picture early, Bond and McNeice put their new equipment innovations -- thanks to sponsor Top End -- to the test. With wider crank shafts and 10 degrees of camber on their rear wheels (versus their usual 20), the teammates set-out to have the race decided early. For the most part, they succeeded, dropping all-but one survivor after just 2 laps. "We've been working with [Top End's] Chris Peterson alot, and I think it's given us the edge." Bond would later say. The sole survivor however, wasn't giving-up without a fight. A relative newcomer to USHF racing, Sacramento's Allejandro Albor didn't appear all that threatening on the start-line. However, his handmade, tiny, custom handcycle with opposing cranks (the only guy using them that we know of), coupled with his small physical presence, allowed him to "sneak-in" behind the duo of Bond/McNeice and demonstrate some pretty impressive wheel-sucking. Although apparently inexperienced, Albor wasn't taking chances at the front and was still hangin-on with the leaders through each and every turn, straightaway, and incline.
If there's one thing Scott McNeice doesn't like, its a shadow. "Every time I looked back," said McNeice, "...he [Albor] would still be right on my wheel, and I just couldn't believe he was still there on that bike of his." Something McNeice would get used-to a few weeks later in Alaska. There was no doubt though, that Elgin was Bond's race to win, and it was his teammate McNeice who finally opened the door in the final mile: "Scott attacked him, got a gap, and he was gone" said Bond. From that point, it was a 2-man sprint, and Bond played it to perfection, taking a superior line on the final turn and easily outsprinting his teammate for his 3rd career National Title. "This day couldn't come soon enough..." Bond commented, "...we've been training hard, and I'm so happy our strategy finally paid off." In regards to Blanchette, Bond was only *slightly* disappointed: "It would have been nice to beat him in the final lap -- t think it stinks that he suffered 2 flats.....but I couldn't be happier about the win!"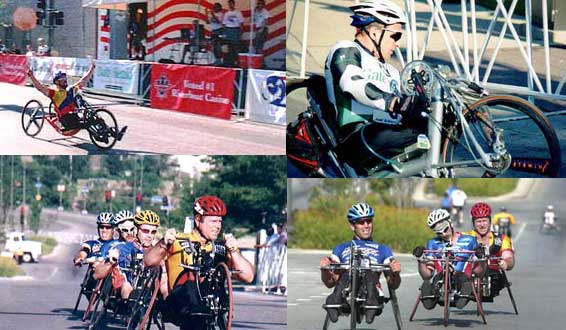 Meanwhile, the Wheel Aggressive Team was feeling the heat -- and the course. After hanging-on for the first 2 1/2 laps, Greg Hockensmith was dropped from the lead group. The tight turns on the course left him gapped on a few turns, and the energy he used to chase proved too much.....but he would hang-on for the fourth spot. W.A.'s Matt Updike -- still trying to recover from Ride the Rockies a few weeks prior -- was red-faced and not looking happy as he desperately clung to Scott Gilger (Invacare) and Tom Foran's (Sportaid) wheel. Foran would control the chase group all day and he was rewarded with 5th place, just ahead of a Gilger -- who looked particularly strong ahead of Updike and Sportaid's Todd Richardson.
Women's Race


Monica Bascio's (Sportaid) race almost ended as early as it had begun. "You know how it is with pre-race adrenaline...I just went in to the first turn waaaay too hot!" said Bascio, referring to her 2-wheel antics on the sweeping 180 degree first-turn just 30 seconds in to the women's race. Fortunately, Bascio got the rubber back down and got down to business....turning-in her best performance of the year ahead of Sherry Ramsey (Invacare), Jennifer Hoffman, and a host of newcomers.
Despite her victory, Bascio felt real pressure for the first-time this year. Pressure from the unkkown. "I had heard about Helene Hinds" [Invacare] for quite some time, and that she was beating alot of the men in some marathons." That's not that easy, so I was a little worried about her, having never seen her race." Bascio's concerns were not unfounded as Hinds turned in an impressive performance despite suffering a flat tire half way in to the event.
After the first 5.5-mile circuit, Hinds was a mere 90 seconds behind Bascio, and kept it down to 3 minutes by the end of the second lap, sitting in a solid 2nd place two minutes in front of Sherry Ramsey. But luck was not on her side when she suffered a front flat on the 3rd lap and waited more-than 10 minutes for a tire change. While Hinds waited, Ramsey passed her, followed by Jennifer Hoffman (Harrison Township, MI), who was making her first appearance of the year, looking fit in a new custom bike. Hinds would finish 4th behind Ramsey and Hoffman, a bit disappointed, but not after making her presence felt on the USHF circuit. Bascio meanwhile, raced a strong race finishing 10th overall.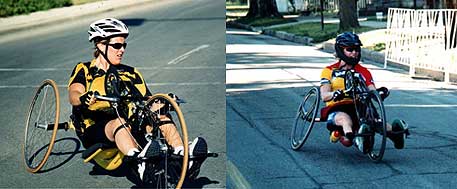 Not far behind were Julie Bishop (Bruno, MI), and 17-year old newcomer (and future star) Nicole McDonald (Detroit, MI). Tadina Sauls (Duluth, MN) suffered a crash during the final lap, but thankfully only suffered some minor scrapes and bumps, and will hopefully be back to future USHF along with McDonald to represent the future of women's handcycling.
Quad Race(s)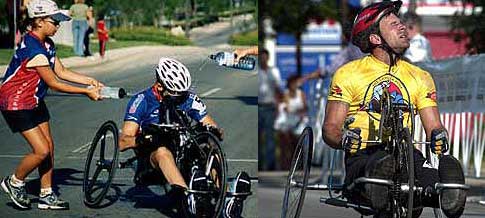 Dwayne Sanders (Sportaid) has been dominant so far this year. Heading in to Elgin, there was no reason to think Sanders would take home anything but his first National Title of the year. What Sanders -- and the rest of us -- didn't know however, was that an exciting new element was about to be injected in tot he quad division, in the form of Jim Harlan from Crested Butte, CO.
Not only was Harlan's presence at the event a miracle (a priest gave up his seat on a plane so Harlan could make the trip), so was his riding. Gasps were heard near the finish line when Sanders came around after 1 lap with Harlan right on his wheel. Race announcers were suddenly scrambling for some information on Harlan -- the mystery man. After a few inquiries by the crack USHF intelligence team, it was discovered had recently been a member of the Adaptive Cycling Team who tackled Ride the Rockies weeks earlier. Clearly, Sanders was not aware of this as he seemed shocked to see Harlan so close to him.
After the second lap, it looked as if we would see a thrilling sprint finish -- a first for the quad division. Fate would strike however, as Harlan's front wheel somehow became "disengaged" on the third lap. "I didn't know what happened" said Sanders, "but boy, was I relieved to look back and see that I was alone." Not only had the heat taken its toll during the race, but it delivered the final blow to Harlan while he sat in the sun waiting for assistance with his bike: "I was feeling fine with the heat until I had to stop, that really killed me.....I was lucky to finish." Regardless, finish he did....in 2nd place in front of another fantastic performance from another newcomer: Maine's Andy Barker, who drove 1,100 miles just to race, and was rewarded with a 3rd place medal! In 4th was a struggling Fred Hecht (Wheel Aggressive), who was having serious problems with the heat AND with his equipment. In fact, Hecht and his Wheel Aggressive team seemed a bit distraught as they promptly disappeared following the race, skipped the awards ceremony and flew home.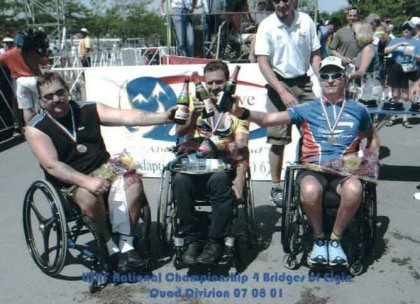 And for the first time ever, we had a women's quad race, in the form of Lynette Volkman (Manketo, MI). This was Volkman's first-ever handcycle race, and she proved that there are indeed quad women who can come-out to show us what this sport is all about. Volkman attacked the course, and rode every mile after just making the deadline for the race cutoff on her second lap. Not only did she complete all 3 of her predetermined laps, but she came home to the roar of the biggest crowd of the day, and a medal for the first-ever women's quad champion!
After a glorious day of racing, race promoters showcased the handcyclists by puttin-on a rockin' awards ceremony, complete with champagne, crystal trophies, and a great, supportive crowd. You can bet, we'll be back in Elgin in 2002!!!