Gone, but not forgotten, you are with us in each ride
Warren Strickland
Name: Warren A. Strickland, Jr.
Age: 24
Location: Grayson, La.
Disability: Above the knee bilateral amputee
Job: Currently a asst. football and head powerlifting coach at Caldwell Parish High School
Marital status: Single sometimes but always looking (a big flirt)
Hobbies and interests: Sports (any type) I also enjoy going out and partying which is one of my downfalls of training because I like
to drink a few here and there and at the races (as some know) I'm real big into powerlifting, I'm certified as
a judge, so, I mess around with that alot.
Music: Country to heavy metal (I like it all)
Party: All the time
How I became disabled: by birth
Physical Description: black hair, blue eyes, athletic build, 5'9 with prosthesis on, short without them (LOL)
Handcycling Accomplishments:
8th or 9th at 2001 Wheel Aggressive Rocky Mountain Omnium (1st ever race)
13th at 2001 RR National Championships in Elgin, IL. 20 total riders. 1:34:?? for 27 miles (2nd race)
1st at 2001 Guts and Glory Duathalon in West Monroe, La. 26 miles in 1:35:34
1st at 2002 Mardi Gras Marathon in New Orleans, La. finished in 1:45:00 (terrible course, NOPD kept slowing me down cause
of safety concerns.....would have finished in 1:30:00 or under)
4th at 2002 Georgia Spring Omnium in Brooks, Ga.
9th at 2002 Lonestar Time Trial in Austin, Tx. 47:24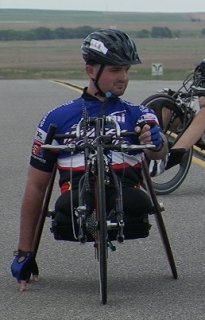 Denver 2001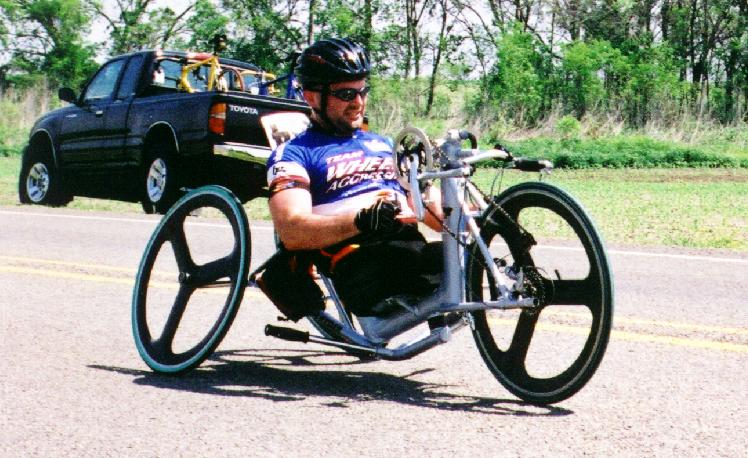 Lonestar Time Trial in Austin, Tx 2002