Andy Barker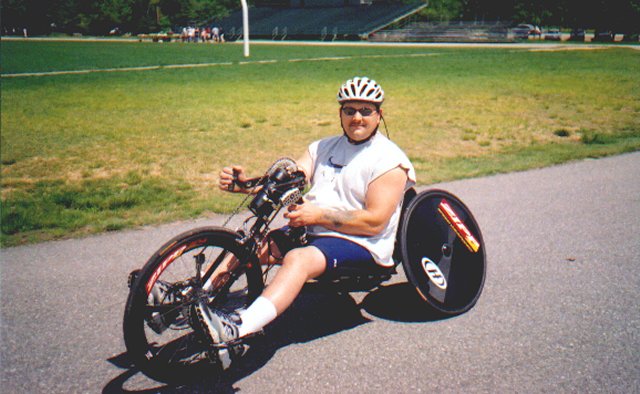 A little about Andy here.
Residence - Lewiston, Maine
Age - 35 years old in the year 2001
When Hurt -He was hurt in 1996 while Mountain Biking
Level of injury - a C-7 Quad
Job - He works for a company by the name of Crescent Industries which
specialize in electronic controls for the handicaped
Marriage Status - Married to a wonderful woman by the name of Eileen
Hobbies and Interests - Nascar and going to local stock car races and Volunteers his time to
helping out Spinal Cord injuries in Rehabilitation Centers
Andy started out playing basketball and wheelchair racing after he was hurt, then found that he could participate in
the sport of Rugby at the level of a 3.5 and liked this sport very much until he fell in love with the sport of Handcycling.
You will see that he is a very devoted and hard training person and has accomplished a lot in the short time he has been
in the sport.
He recently broke his shoulder, while training for the race which would be held in Binghamton N.Y. This was a major
setback as he hoped to do well in the race and have a top finish.
He hopes to race the entire 2002 USHF schedule, and will train hard over the Winter months for this.
Accomplishments in Handcycle racing
1st - Salomon Smith Barney & Nick Katsounis Handcycle Race, June 24,2001
3rd - The Four Bridges of Elgin Race, July 8, 2001

Below are a few pictures of some of his favorite toys
click on pictures to see them in a larger format






Andy's new Hall's Cycle with modifications he has made to it



If you would like to know more about Andy, or would like to send him E-Mail this can be done by dropping him
a note to BHandcycle@aol.com